Frieze Art Fair - Randall's Island, New York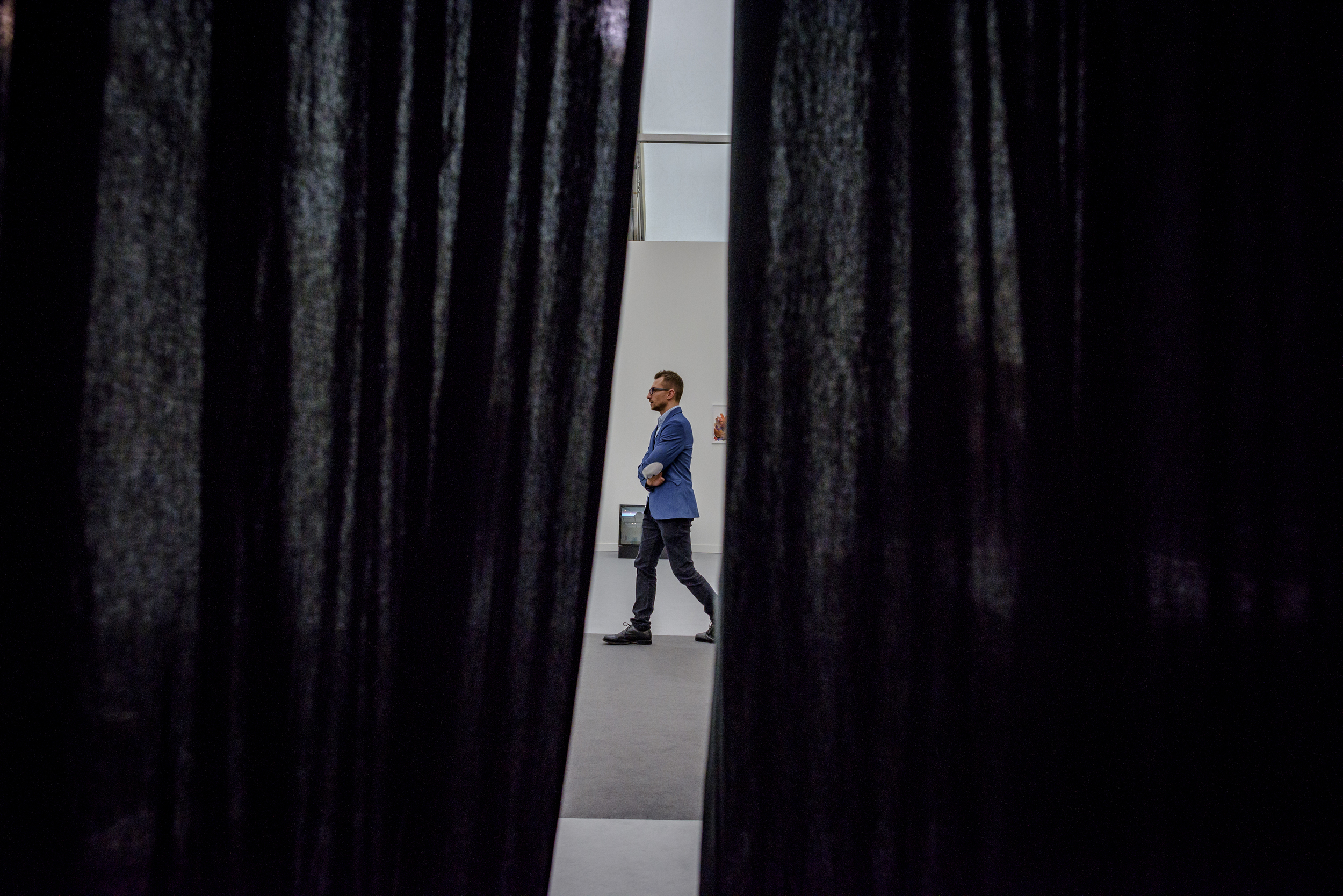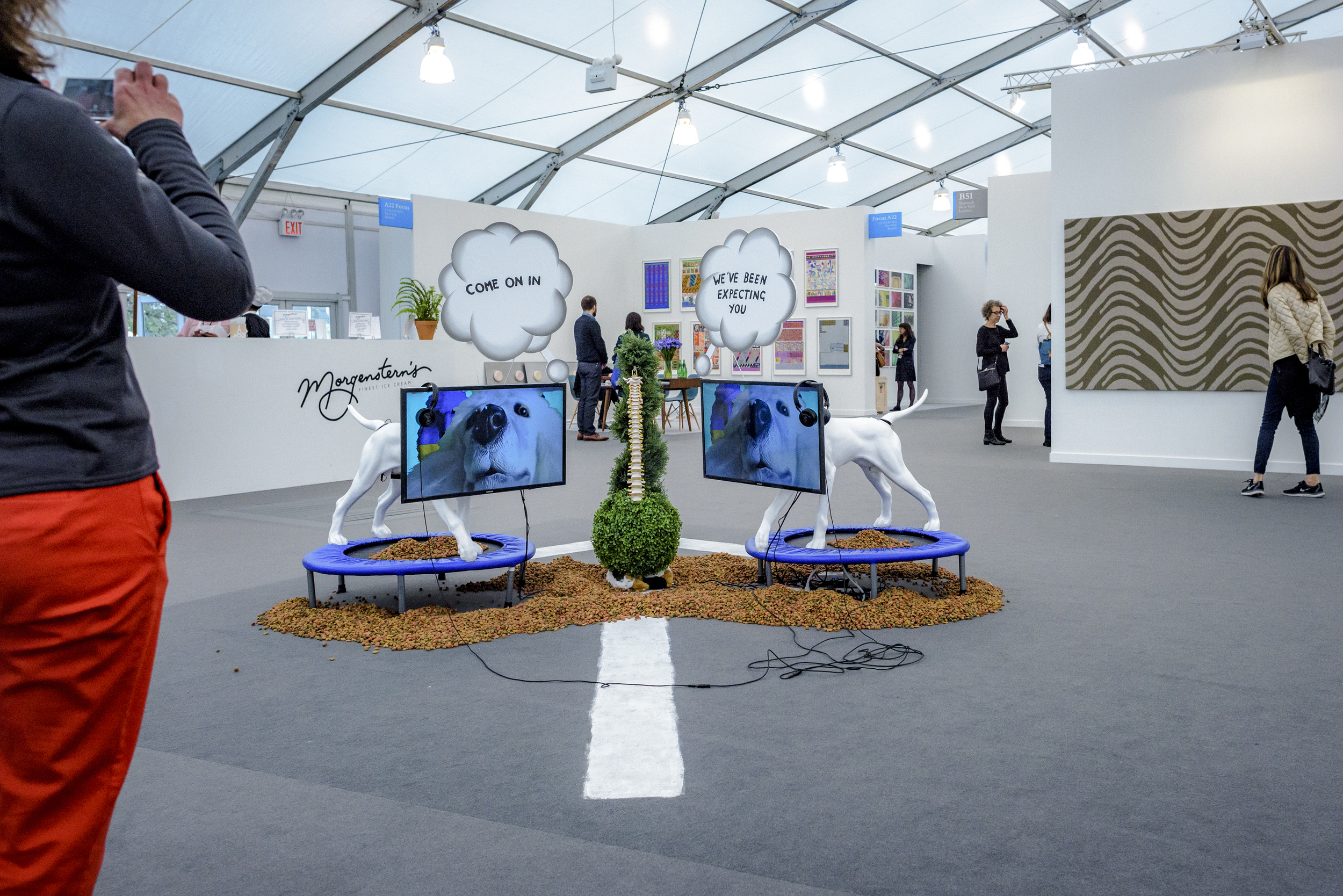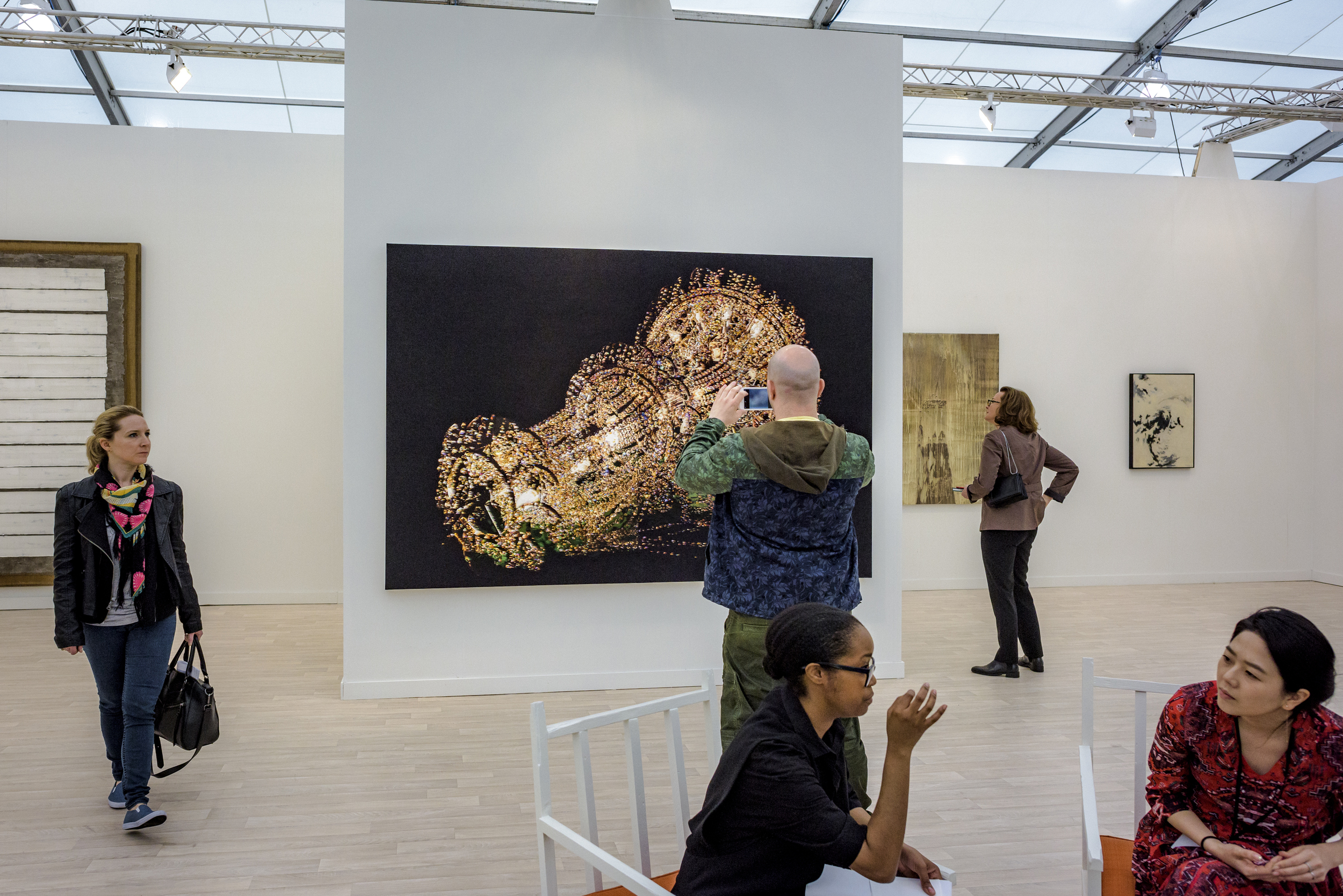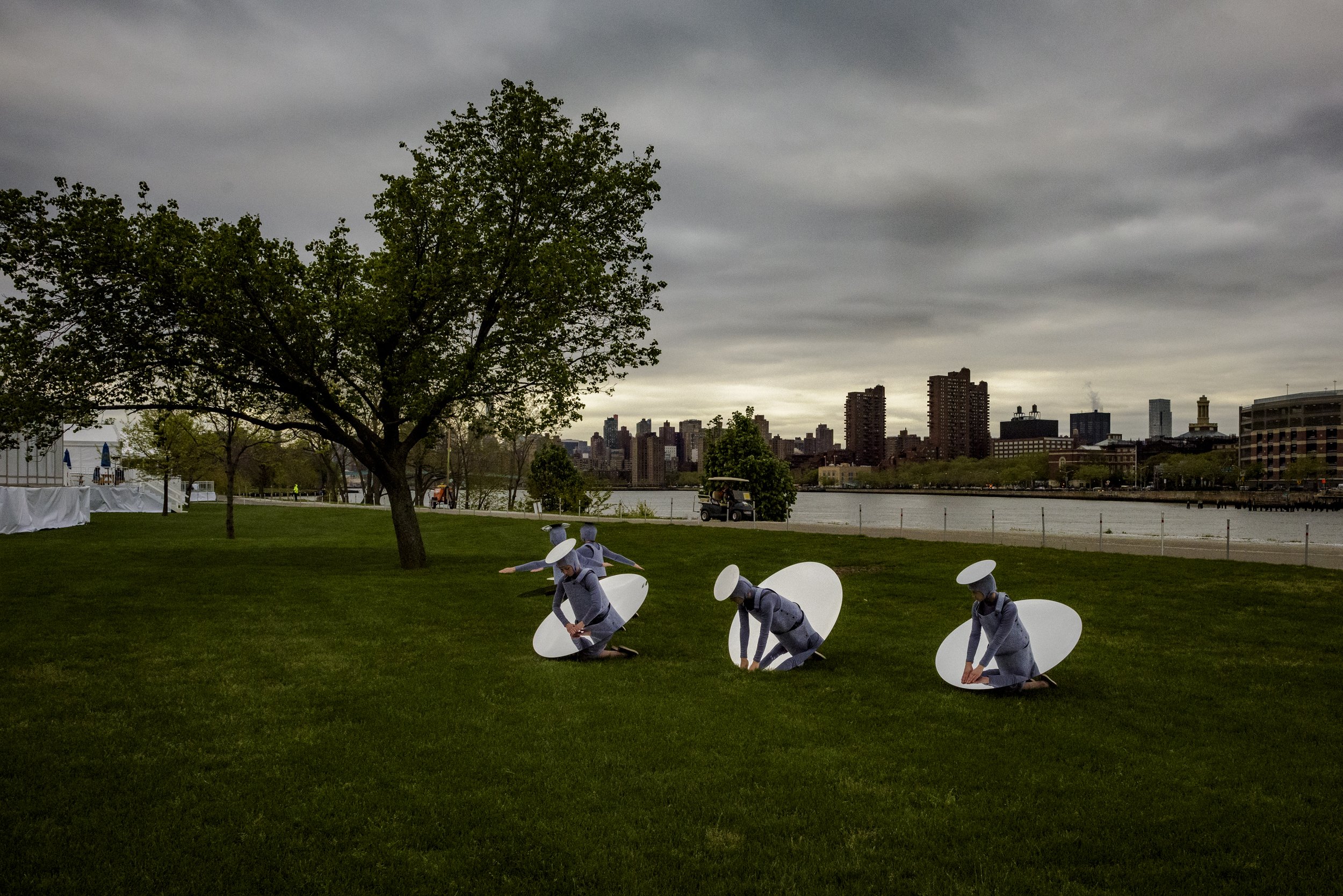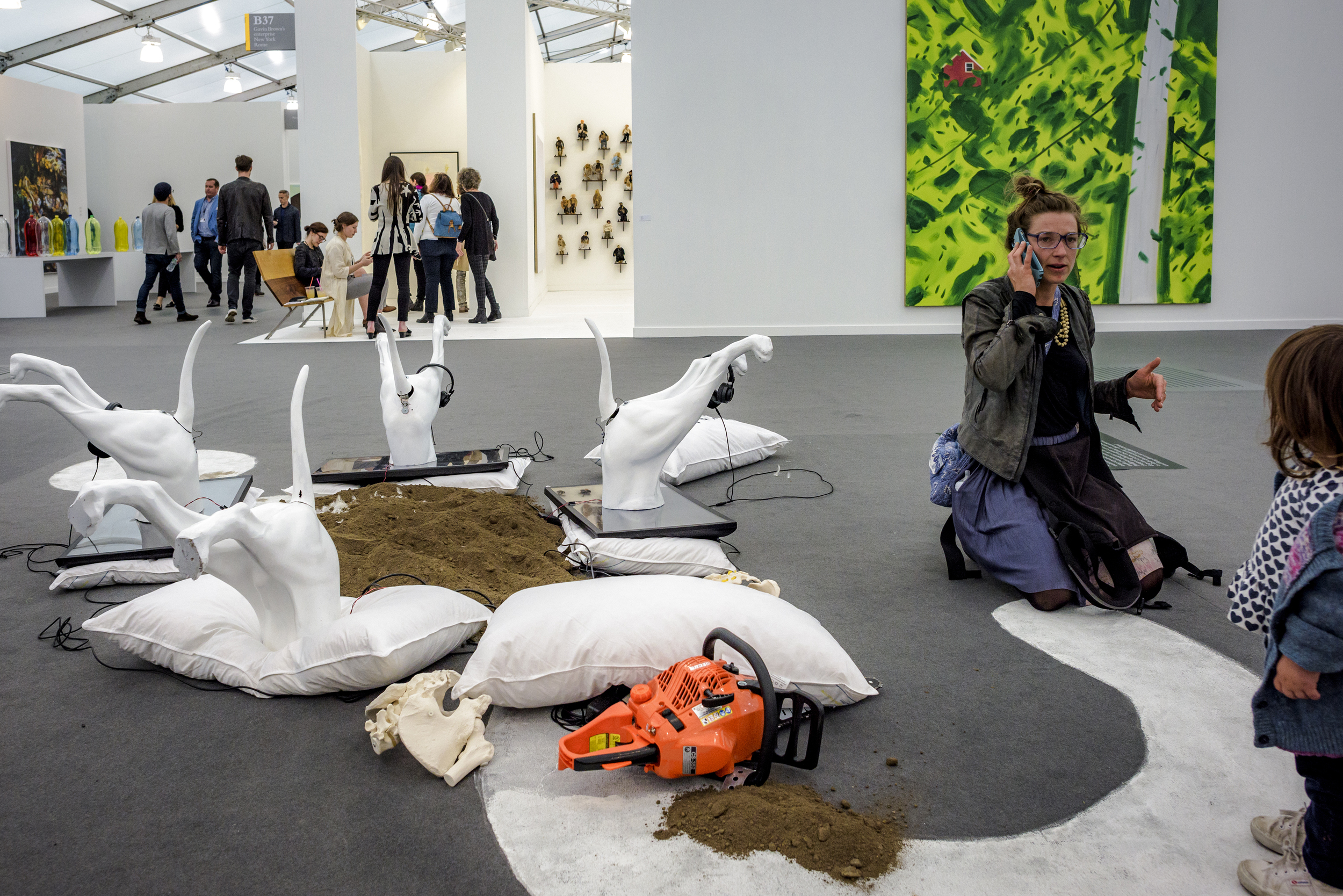 Images above: ©Fernando Sandoval, Frieze Art Fair
The fifth edition of Frieze (May 5 - 8) assembled more than 200 international contemporary art galleries under a huge white tent embellished with diagonal streamers which gives the impression that some alien species has landed and set up camp. There was an inflated balloon in the form of a huge pink infant by Alex Corte floating above the grassy lawn, one of the special projects commissioned by Frieze.
The special projects was a pretty mixed bag of performance, installation, and intervention. The Maurizio Cattelan tribute to the Daniel Newburg Gallery, a little known legendary gallery which closed 20 years ago, consisting of a live donkey in a room with a chandelier was something of a "huh?" moment. Probably the Eduardo Navarro outdoor performance piece with mirrors meant to track the movement of clouds was only seen on Sunday since every other day was bleakly overcast and/or drizzling. I was intrigued by the Heather Phillipson feral dogs which were encountered in different locations throughout the exhibitions space. And charmed by the Anthea Hamilton Kar-A- Sutra peopled by mimes in white face artfully posing and draping themselves on a bright green mobile bed.
Of particular note was a huge installation at Andrea Rosen by David Altmejd called Le Desert et la semence which is comprised of a seemingly random collection of curiosities, including coconuts, porcelain sculpture and miscellaneous objects on individual plexiglass pedestals and mirrored surfaces. There is a sense of reverence or fetishistic awe which seems to be subverted by what looks like vandalism caused by a hole smashed into one of the mirror plates.
Li Ming's large images at Antenna Space B24 interprets cell phone covers with cloudy streaks caused by the swipes of fingers on the surface and suggests a ghostly pentimento. Some of the most satisfying offerings were single artist displays. Marion Goodman showed only William Kentridge and Pace showed Fred Wilson beautifully installed. Tomás Saraceno's gorgeous glass sculpture which looks like enlarged viscose bubbles appeared in a few different galleries. It was great to see so much Vik Muniz at Sikkema Jenkins. Alas, photography seemed to be under represented at this fair.
When a collector friend of mine expressed a lack of enthusiasm for the fair complaining that everything was so expensive - I suggested that he regard it as a museum visit and enjoy it in that way. There was a lot to be appreciated which was new and stimulating.